This machine is a new generation can sealing machine designed and manufactured by our company according to the actual situation of domestic canning factories and beverage factories and referring to the most advanced similar products abroad. It has simple structure, convenient adjustment, production capacity, frequency conversion speed regulation, and can be equipped with steam jet according to customer requirements.For Turnkey Food Beverage Production Line/Can Food Machinery/ Fruits Juice Machinery/Tomato Sauce Machinery/Fruits Jam Machinery/Milk Yogurt Machinery Please Contact us
Main technical parameters:
Number of cans sealed: 4
Production capacity: 60 ~ 200 cans / min
Applicable tank height: 39 ~ 160mm
Applicable tank diameter: Φ 52.5 ~ 99mm
Motor power: 5.5kw
Overall dimension: 1950mmx1500mmx2000mm

2. Material
a. Transmission parts: high quality carbon steel
B conveyor belt parts: side plate is SUS304 stainless steel, conveyor chain is POM flat top chain
C worktable parts: the frame is made of carbon steel with SUS304 stainless steel guard
D sealing parts: high quality carbon steel, bearing steel and tool steel.
3. Electrical equipment configuration
a. Touch screen: Xinjie b.plc: Fengwei (Germany)
c. Frequency converter: Delta (Taiwan) d. proximity switch: OMRON
e. Switching power supply: Omron (Japan) F. relay: OMRON
g. Circuit breaker: Tianzheng h. pressure reducing valve: Yadeke
i. Power switch: Tianzheng J. contactor: Chint
k. Three phase motor: Vitel. Welded pneumatic Butterfly Valve: Sifang
m. Cylinder: Bo'ao n. solenoid valve: Yadeke
JUMP machinery Shanghai limited Is modern high-tech joint-stock enterprises, formerly known as Shanghai Qianwei machinery plant, professional engaged in whole plant equipment design, manufacturing, R & D and turnkey project for juice and jam, tropical fruit processing, heat canned fruit juice drinks, tea drinks, yogurt, cheese and liquid milk dairy processing . The employee quality of the company is excellent, the backbone of the engineer and the core technology R & D personnel directly from the original Qianwei machinery factory, also has a number of food engineering and packaging machinery professional master and doctoral, fully equipped with the whole line project design and development, production and manufacture, installation and commissioning, technical training and after-sales service, etc. the comprehensive ability.
Our main production line
1Tomato paste / puree / jam / concentrate, ketchup, chilli sauce , other fruit & vegetables sauce / jam processing line
2Fruit & vegetables ( orange , guava, cirtrus, grape, pinapple, cherry, mango, apricot.etc. ) juice and pulp processing line
3Pure, mineral water, Mixed beverage, drink (soda, Cola, Sprite, carbonated beverage, no gas fruit drink, herbal blend drink, beer,cider, fruit wine .etc. ) production line
4Canned fruit & vegetables ( tomato, cherry, beans, mushuroom, yellow peach, olives, cucumber, pineapple, mango, chili, pickles and so on. ) production line
5Dried fruit & vegetables ( dried mango, apricot, pineapple, raisin, blueberry .etc. ) production line
6Dairy (UHT milk, pasteurized milk, cheese, butter, yogurt, milk powder, margarine, ice cream)production line
7Fruit and vegetable powder (Tomato, pumpkin, cassava powder, strawberry powder, blueberry powder, bean powder, etc. ) production line
8Leisure snack (Dried freeze-dried fruit, puffed food, french fried potato chips, etc. ) production line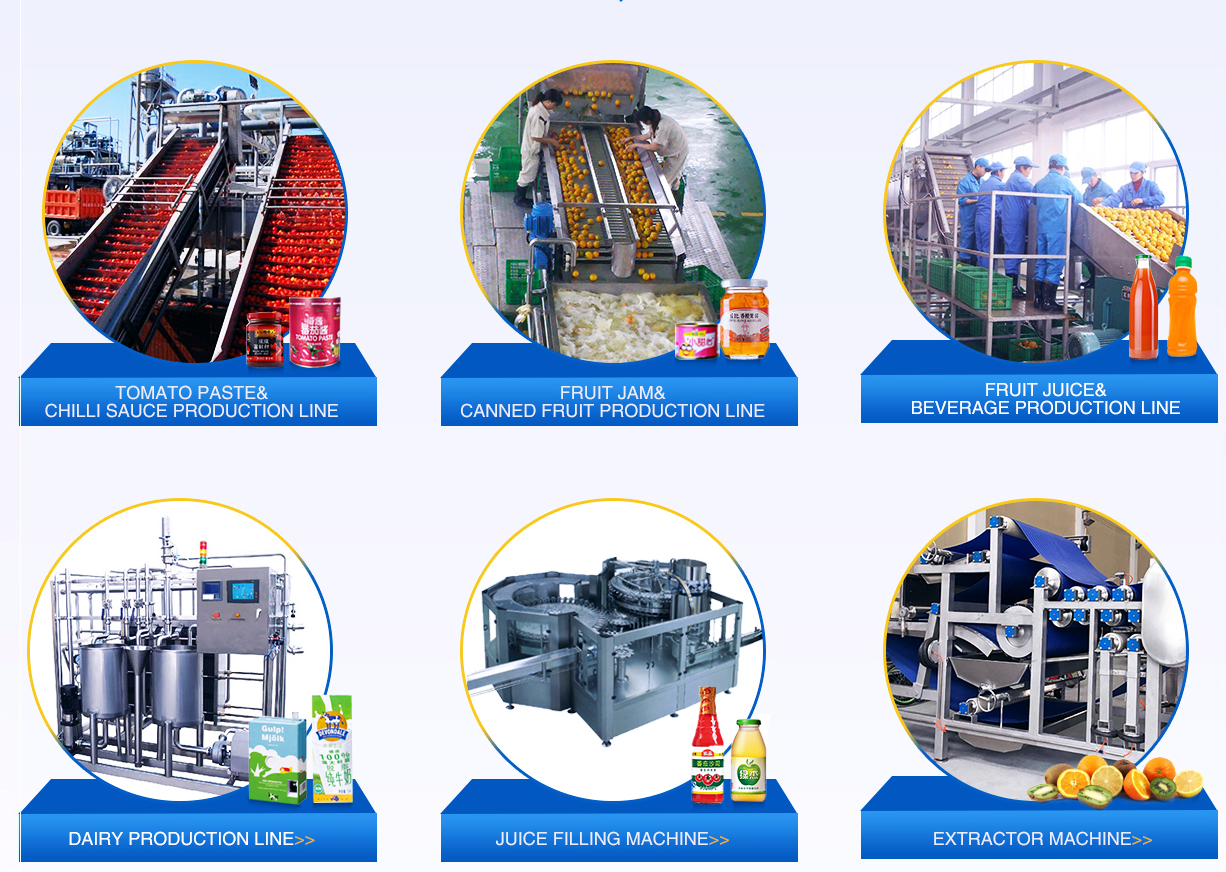 Pre-sales service

We can suggest customer the most suitable machine according to their formula and Raw material. "Design and development", "manufacturing", "installation and commissioning", "technical training" and "after sales service". We can introduce you supplier of raw material, bottles, labels etc. Welcome you to our production workshop to learn how our engineer produce. We could customize machines according to your real need, and we could send our engineer to your factory to install machines and train your worker of Operation and maintenance. Any more requests. Just let us know.
After-sale service
1.Installation and commissioning: We will send experienced engineering and technical personnel to be responsible for the installation and commissioning of the equipment until the equipment is qualified to ensure that the equipment is in time and put into production;
2.Regular visits:To ensure the long-term stable operation of the equipment, we will be based on customer needs, provide one to three times a year to come to technical support and other integrated services;
3.Detailed inspection report: Whether the inspection regular service, or the annual maintenance, our engineers will provide a detailed inspection report for the customer and the company reference archive, in order to learn the equipment operation at any time;
4.Fully complete parts inventory: In order to reduce the cost of parts in your inventory, provide better and faster service, we prepared a complete inventory of parts of equipment, to meet customers possible period of want or need;
5.Professional and technical training:In order to ensure the performance of the customer's technical personnel to become familiar with the equipment, correctly grasp the equipment operation and maintenance procedures, in addition to install on-site technical training. Besides, you also can hold all kinds of professionals to the factory workshops, to help you faster and more comprehensive grasp of technology;
6.Software and consulting services:In order to allow your technical staff to have a greater understanding of the equipment related counseling, I will arrange to send the equipment regularly sent to the advisory and latest information magazine.No need worry if you know little about how to carry out the plant in your country.We not only offer the equipments to you,but also provide one-stop service, from your warehouse designing (water, electricity ,steam) , worker training, machine installation and debugging, life-long after-sale service etc.